Enable Click-to-Paste (Auto-Paste) in Copy'em Paste
Step 1: Download this free helper app.

Step 2: Install the app (open the downloaded file, and go through its installation steps, as shown below). If your Mac doesn't let you install the app, see Troubleshooting below.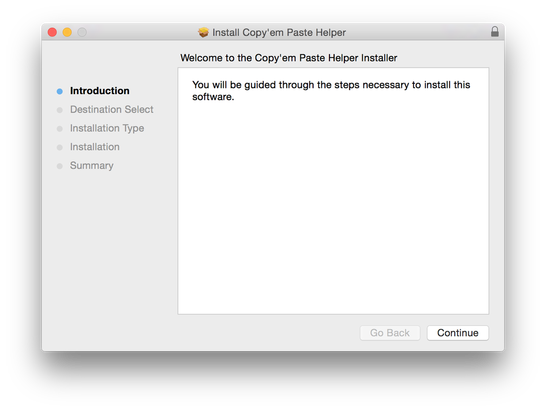 That's it! Auto-paste is now enabled. (There is no need for you to run the helper app yourself because Copy'em Paste will invoke it automatically at runtime whenever auto-paste is needed.)


Troubleshooting: In Step 2, if you see a warning dialog box similar to the one below, follow the steps here to resolve the issue.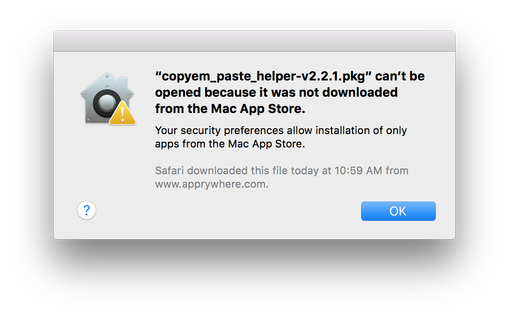 In Finder, locate the downloaded file.
Right-click the file (or click the file while pressing the Control key) to display a menu.
In the menu, select "Open" to open a dialog box similar to the one below.
In the dialog box, press the "Open" button to start the installation process (and then finish Step 2 above).
What does Copy'em Paste Helper do?

This helper app can auto-paste for Copy'em Paste whenever necessary. This happens automatically, at the request of Copy'em Paste. There's no need for you to run the helper app yourself.

With auto-paste enabled, you can select and paste clippings in a single step, directly from Copy'em Paste.

Without auto-paste, you would have to select and paste a clipping in two separate steps. First, select the clipping in Copy'em Paste. Then switch to a target app and paste the clipping there (using a paste command such as ⌘-V). This extra step is required due to Apple's application sandboxing.